Get Involved
The Shut Down Red Hill Coalition is a grassroots effort. The Navy didn't agree to shut down Red Hill until THE PEOPLE demanded it. Now, we need your help to make sure they actually do it.
Join the Movement to Shut Down Red Hill TODAY!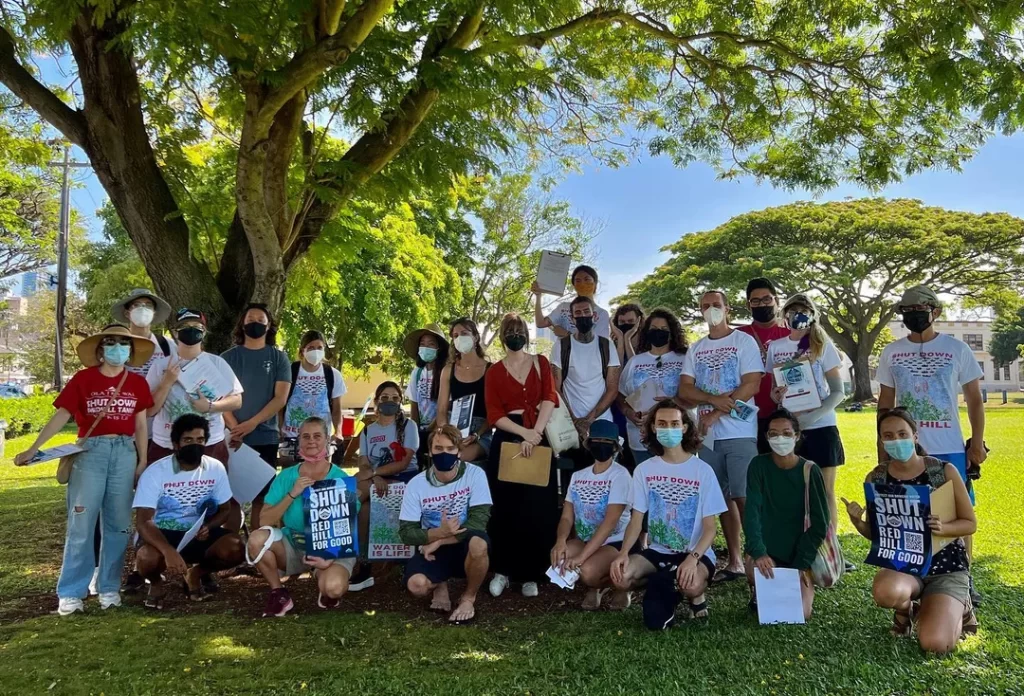 Organizing Community
We are organizing communities all over Oʻahu. Join us for a canvassing event in your area!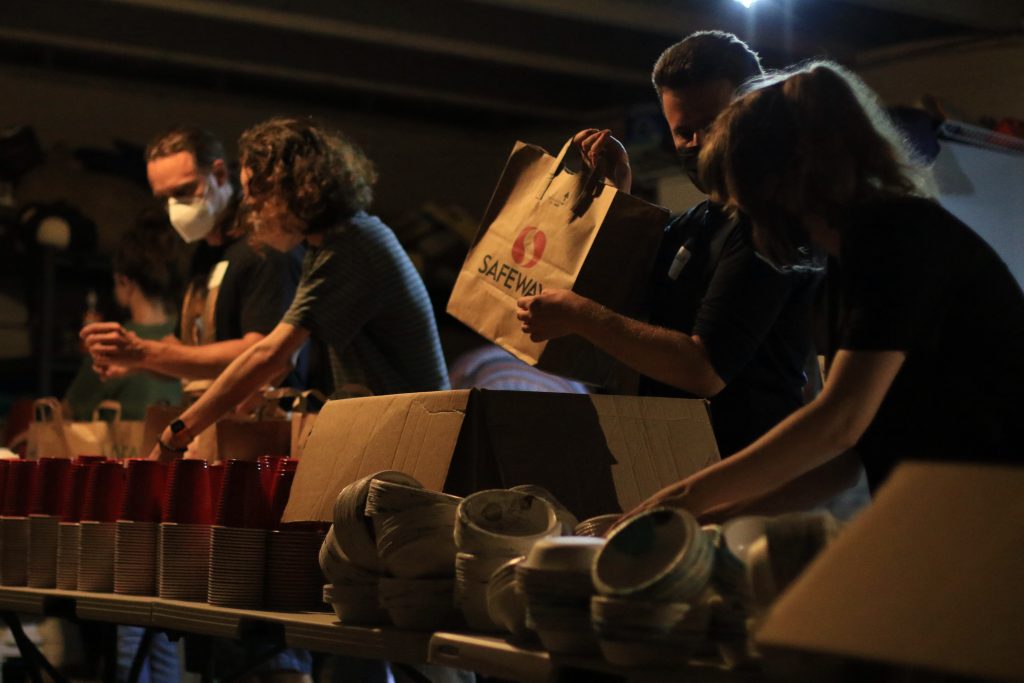 Mutual Aid
Our members organize regular supply distributions for affected community. Join us or support us with a donation!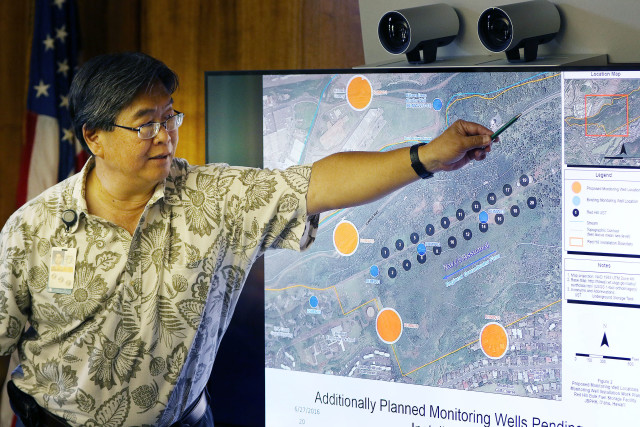 Education
Learn more about the Red Hill crisis, then tell your friends and family!
Upcoming Events
Introduce yourself, then join us at one of our upcoming events!
October 2023
Monday
Tuesday
Wednesday
Thursday
Friday
Saturday
Sunday

10:00 am

– 12:00 pm

SDRH Mutual Aid Water Distribution [Set Up @9am, Water from 10:30am]

10:00 am – 12:00 pm

SDRH Mutual Aid Water Distribution [Set Up @9am, Water from 10:30am]
November 2023
Monday
Tuesday
Wednesday
Thursday
Friday
Saturday
Sunday

10:00 am

– 12:00 pm

SDRH Mutual Aid Water Distribution [Set Up @9am, Water from 10:30am]

10:00 am – 12:00 pm

SDRH Mutual Aid Water Distribution [Set Up @9am, Water from 10:30am]
December 2023
Monday
Tuesday
Wednesday
Thursday
Friday
Saturday
Sunday

10:00 am

– 12:00 pm

SDRH Mutual Aid Water Distribution [Set Up @9am, Water from 10:30am]

10:00 am – 12:00 pm

SDRH Mutual Aid Water Distribution [Set Up @9am, Water from 10:30am]
January 2024
Monday
Tuesday
Wednesday
Thursday
Friday
Saturday
Sunday

10:00 am

– 12:00 pm

SDRH Mutual Aid Water Distribution [Set Up @9am, Water from 10:30am]

10:00 am – 12:00 pm

SDRH Mutual Aid Water Distribution [Set Up @9am, Water from 10:30am]
February 2024
Monday
Tuesday
Wednesday
Thursday
Friday
Saturday
Sunday

10:00 am

– 12:00 pm

SDRH Mutual Aid Water Distribution [Set Up @9am, Water from 10:30am]

10:00 am – 12:00 pm

SDRH Mutual Aid Water Distribution [Set Up @9am, Water from 10:30am]
March 2024
Monday
Tuesday
Wednesday
Thursday
Friday
Saturday
Sunday

10:00 am

– 12:00 pm

SDRH Mutual Aid Water Distribution [Set Up @9am, Water from 10:30am]

10:00 am – 12:00 pm

SDRH Mutual Aid Water Distribution [Set Up @9am, Water from 10:30am]
April 2024
Monday
Tuesday
Wednesday
Thursday
Friday
Saturday
Sunday

10:00 am

– 12:00 pm

SDRH Mutual Aid Water Distribution [Set Up @9am, Water from 10:30am]

10:00 am – 12:00 pm

SDRH Mutual Aid Water Distribution [Set Up @9am, Water from 10:30am]
May 2024
Monday
Tuesday
Wednesday
Thursday
Friday
Saturday
Sunday

10:00 am

– 12:00 pm

SDRH Mutual Aid Water Distribution [Set Up @9am, Water from 10:30am]

10:00 am – 12:00 pm

SDRH Mutual Aid Water Distribution [Set Up @9am, Water from 10:30am]
June 2024
Monday
Tuesday
Wednesday
Thursday
Friday
Saturday
Sunday

10:00 am

– 12:00 pm

SDRH Mutual Aid Water Distribution [Set Up @9am, Water from 10:30am]

10:00 am – 12:00 pm

SDRH Mutual Aid Water Distribution [Set Up @9am, Water from 10:30am]
July 2024
Monday
Tuesday
Wednesday
Thursday
Friday
Saturday
Sunday

10:00 am

– 12:00 pm

SDRH Mutual Aid Water Distribution [Set Up @9am, Water from 10:30am]

10:00 am – 12:00 pm

SDRH Mutual Aid Water Distribution [Set Up @9am, Water from 10:30am]
August 2024
Monday
Tuesday
Wednesday
Thursday
Friday
Saturday
Sunday

10:00 am

– 12:00 pm

SDRH Mutual Aid Water Distribution [Set Up @9am, Water from 10:30am]

10:00 am – 12:00 pm

SDRH Mutual Aid Water Distribution [Set Up @9am, Water from 10:30am]
September 2024
Monday
Tuesday
Wednesday
Thursday
Friday
Saturday
Sunday

10:00 am

– 12:00 pm

SDRH Mutual Aid Water Distribution [Set Up @9am, Water from 10:30am]

10:00 am – 12:00 pm

SDRH Mutual Aid Water Distribution [Set Up @9am, Water from 10:30am]